Welcoming all Caravan Club Members!
Location, Location, Location is the mantra for buying a house.
Why not the same when choosing a caravan site?
Meon View really is perfect for exploring Stratford, the Cotswolds and the Vale of Evesham. Access is easy from the North and South, Stratford is only 6 miles away and you can be in Chipping Campden, the first of the Cotswold Market Towns, within 10 minutes.
As we hope you can see from our photographs the site is privileged to be at the foot of Meon Hill, chosen by the Romans for a hilltop fort because of its commanding presence at the Northwestern tip of the Cotswold hills. This gives a stunning backdrop to your holiday.
However, beauty is not at a price. We are outside the village of Upper Quinton and our 4 acres of lawned field is surrounded by hedges on all four sides, ensuring a secluded and peaceful stay. As we are off the bus-tour routes and away from the busy roads you could be forgiven for thinking we were further from civilization than we are.
Exploring the area - walking, cycling, buses
The Heart of England Way can be accessed form the site which connects with the Cotswold Way at Chipping Campden. The local farm shop has a circular trail on Meon Hill that can be accessed from the field.
The Greenway walking and cycle track is just down the road from our site and runs along the old railway line to Stratford-upon-Avon.
Regular buses run within a short walk to Stratford-upon-Avon, Broadway, Moreton-in-the-Marsh and Chipping Campden.
Park and Ride is available on the edge of Stratford-upon-Avon into the town centre from Waitrose supermarket.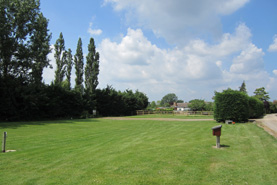 Facilities
We have electric hookups available on all our pitches.
We have several taps for mains water, a emptying point and there are plenty of bins.
The field is not used by farm animals and is regularly mown. We welcome conscientious dog (or cat) owners.
An area of hard standing is available.
There is a a local shop and Post Office nearby for milk and papers etc.
We try to accommodate any special requirements our guests have so if there is something you need, let us know and we will see what we can do.
2015 Rates
We charge £12.00 a night for a Caravan including awnings etc., 2 adults and electric.
Extra adults are £2.00 a night and children (5-14) £1.00
Our CL is open from March to October.
As a Caravan Club Certified Location (CL) we follow the guidelines set out by the Caravan Club, available in the Sites Directory, and as such can only accept Caravan Club Members to stay. We are listed in the site directory under Warwickshire.
We ask you vacate your pitch by 12 noon and similarly arrive after 12 noon.
We appreciate this is not always possible and don't want to cut short anyone's visit so there is space for vans to be left for a few hours.
Still not sure?
We have been at Meon View for over 20 years and many visitors return year after year.